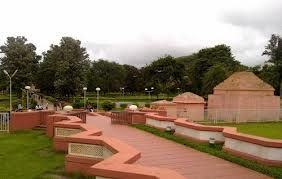 "Tourism, places to visit in Karad on vacations with family. A Tourist attractions and Travel Guide for places to visit near Karad to see picnic spots & travel destinations on trip with your loved ones.
About the City
Karad is a city in Satara district in the Indian state of Maharashtra. It lies at the confluence of Koyna River and the Krishna River. The two rivers originate at Mahabaleshwar, which is around 100 km from Karad. They diverge at their origin, and travel for about the same distance to meet again in Karad. The rivers meet exactly headon, thus forming letter ""T"". Their confluence is called Preeti Sangam, meaning Lovely Meeting. Karad is well known for sugar production and is known as the sugar bowl of Maharashtra owing to the presence of many sugar factories in and around Karad. It has many prestigious educational institutes such as Government College of Engineering, Government College of Pharmacy and the Krishna Institute of Medical Sciences and hotels such as Hotel Sangam.
Local Transport
The primary railway station in city or near city is Karad at 1 Kms. Bus Stand in an around city is Karad at 1 Kms.
Shopping & Hotel in the City
Best Tourist attractions in the city are Preeti Sangam (Confluence of Koyna & Krishna River), Aagashiv Dongar, Sadashivgad, Vasantgad (10 km), Aundh, Manore, Khodshi Dam 03 km, Tembhu Dam 05 km, Koyna Dam 40 km, Chandoli Dam 55 km west, Uttarmand Dam 38 km, Ram Mandir Chaphal 35 km, Talbid (Ram Mandir and Vasant fort) 12 km, Sagareshwar Wildlife Sanctuary, Valmiki Temple & Big Wild Area(45km from Dhebevadi Fata), Pachawadeswar(Narayanwadi)8km, Kas Pathar 86 km, Thoseghar Waterfall 86 km, Walmiki 45 km. Shopping markets in the city are local market. Language commonly spoken in the city Hindi, English. Famous hotels or food places in the city are Hotel Pankaj Executive, Hotel Sangam, Hotel Shree Annapurna Prasad.
Image Gallery for the City