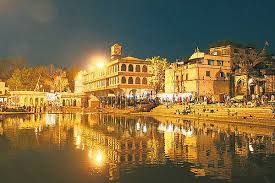 Tourism, places to visit in Nashik on vacations with family. A Tourist attractions and Travel Guide for places to visit near Nashik to see picnic spots & travel destinations on trip with your loved ones.
About the City
Nashik is a city in the state of Maharashtra in Western India. This is an ancient holy city. Some archaeological sites state early human settling evidence from at least five years. It is a city of pilgrimage for many Hindus. The place is important for Hindu rituals for the afterlife offerings. It is also one of the four locations of the Kumbha Mela festival.
Nashik is one of the world's holiest Hindu cities. Kumbhmela is held here once in 12 years along with four other cities in India. Lord Rama along with Lakshmana and Sita spent 14 years of his exile at Tapovan near Nashik. The city came under the rule of Mughal in 16th century and was renamed Gulshanabad. Then it comes under Peshwa of Maratha Empire in 1818. City is also noted for its participation in freedom struggle. Freedom fighters like Veer Savarkar and Anant Laxman Kanhere were born in Nashik.
Local Transport
The primary railway station in city or near city is Nashik Road at 9 Kms. Bus Stand in an around city is Nashik Bus Sthanak 1 Kms.
Shopping & Hotel in the City
Best Tourist attractions in the city are Ramkund, Muktidham Temple, Coin Museum, Pandavleni Caves, Someshwar, Deolali Camp, Artillery Centre, Takli. Shopping markets in the city are College road, Tibetan market, Ganga Ghat, Saraf Bazaar, MG Road, Deolali market place. Language commonly spoken in the city Hindi, English. Famous hotels or food places in the city are Hotel Tuljai, Bhamre Misal,CIDCO, Hotel Sheetal,.
Image Gallery for the City