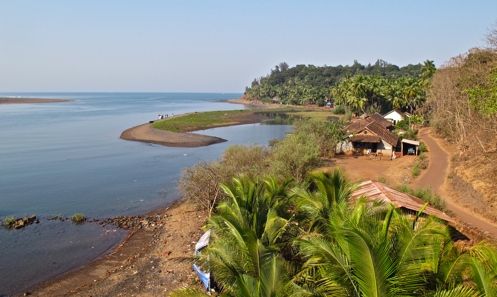 Tourism, places to visit in Ratnagiri on vacations with family. A Tourist attractions and Travel Guide for places to visit near Ratnagiri to see picnic spots & travel destinations on trip with your loved ones.
About the City
Ratnāgiri (Marathi: रत्‍नागिरी) is a port city on the Arabian Sea coast in Ratnagiri District in the southwestern part of Maharashtra, India. The district is a part of Konkan.
The Sahyadri mountains border Ratnagiri to the east. Heavy rainfall results in highly eroded landscape in the coastal region, but fertile alluvial valleys in the region produce abundant rice, coconuts, cashew nuts, and fruits, ""Hāpus"" (Alphonso) mangoes being one of the main fruits. Fishing is an important industry in Ratnagiri.
Chitpavan is a major branch originally from ratnagiri district. Guhagar is their origin and Vyadeshwar is clan god of many of them.
A few illustrious Indians, including Lokmānya Tilak i.e. Bal Gangadhar Tilak, a prime leader in the nation's freedom movement in the British Raj days; Bharat Ratna ""Maharshi"" Dhondo Keshav Karve, a social reformer and educationist; and Wrangler Paranjpe i.e. Wrangler Raghunath Purushottam Paranjpe, a mathematician and educationist, were born in Ratnagiri or its vicinity.
Ratnagiri has also been featured in Amitav Ghosh's novel, 'The Glass Palace.' The Jaitapur Nuclear Power Project is located in the district.
Local Transport
The primary railway station in city or near city is Ratnagiri rly station at 5 Kms. Bus Stand in an around city is Ratnagiri bus stop at 1 Kms.
Shopping & Hotel in the City
Best Tourist attractions in the city are Mirkarwada Beach, Pawas, Atulit Bal Dham, Ratna Durg, Nivali Waterfall. Shopping markets in the city are Ratnagiri local market. Language commonly spoken in the city Hindi, Englosh. Famous hotels or food places in the city are Amantran restaurant, Gopal restaurant, Lajjat restaurant, Kohale pak at Helkar sweet shop.
Image Gallery for the City
Summary
Reviewer
Review Date
Reviewed Item
Author Rating