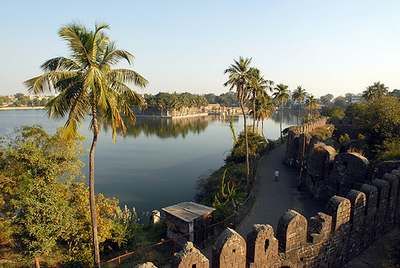 Tourism, places to visit in Solapur on vacations with family. A Tourist attractions and Travel Guide for places to visit near Solapur to see picnic spots & travel destinations on trip with your loved ones.
About the City
Solapur (About this sound pronunciation is largest city in southern Maharashtra, India and 4th largest in maharashtra sharing its place with nashik which is equal in population and area. It lies on the border of Maharashtra and Karnataka. It is 2 TIER city classified as B-1 by HRA classification.It is 30 most Populated city in India and 43rd Largest Urban agglomeration. Solapur has speakers of Marathi, Kannada, Telugu and Urdu, with Marathi as major language and Kannada as sub-major. It is the fourth largest district in Maharashtra in terms of land area and seventh largest in terms of population. The district shares its the borders with southern Indian state Karnataka.
Solapur is well known for its textile industries often referred as Manchester of India. Solapur chadars and towels are world famous. It has been a leading center for cotton mills and power looms in India . Solapur had the world's second largest and Asia largest spinning mill. The chief deity of the city is Shri Siddheshwar. The ""Nandidhwaj"" procession on Makar Sankranti is celebrated on 14 January. An annual fair locally known as 'Gadda yatra' attracts large crowd. Solapur municipal corporation extended its area up to 300 km2 with emerging its suburbs.
Local Transport
The primary railway station in city or near city is Solapur rly station at 2 Kms. Bus Stand in an around city is Solapur bus stand at 1 Kms.
Shopping & Hotel in the City
Best Tourist attractions in the city are Siddeshwar Temple, Markandeya Temple, Venkateshwara Temple, Rupa Bhavani temple, Bhui fort, Kambar Talao. Shopping markets in the city are Navi Peth. Language commonly spoken in the city Hindi, English. Famous hotels or food places in the city are Supraja pav bhaji, Bageecha restaurant, multani bakery, kamal restaurant, Nut sweets.
Image Gallery for the City