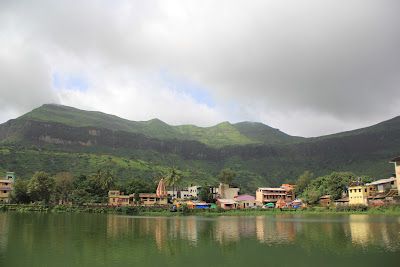 Tourism, places to visit in Trimbakeshwar on vacations with family. A Tourist attractions and Travel Guide for places to visit near Trimbakeshwar to see picnic spots & travel destinations on trip with your loved ones.
About the City
Trimbakeshwar (Marathi: त्र्यंबकेश्वर) or Trambakeshwar is an ancient Hindu temple in the town of Trimbak, in the Trimbakeshwar tehsil in the Nashik District of Maharashtra, India, 28 km from the city of Nashik. It is dedicated to Lord Shiva and is one of the twelve Jyotirlingas.
It is located at the source of the Godavari River, the longest river in peninsular India. The Godavari River, which is considered sacred within Hinduism, originates from Bramhagiri mountains and meets the sea near Rajahmudry. Kusavarta, a kund is considered the symbolic origin of the river Godavari, and revered by Hindus as a sacred bathing place. The current temple was built by Peshwa Balaji Baji Rao (a.k.a Nanasaheb).
Local Transport
The primary railway station in city or near city is Nashik Road Railway Station at 28 Kms. Bus Stand in an around city is Trimbakeshwar bus stop at 1 Kms.
Shopping & Hotel in the City
Best Tourist attractions in the city are Triambakeshwar Temple, Panchwati, Brahmagiri Hill. Shopping markets in the city are Trimbakeshwar market. Language commonly spoken in the city Hindi, English. Famous hotels or food places in the city are Ganga Beach Restaurant, Tulsi Restaurant, Mukti's Health Food.
Image Gallery for the City